Accessible Bed and Breakfast:  ADA, Americans with Disabilities Act,  Requirements
An accessible Bed and Breakfasts must meet Tittle III  ADA laws.  On March 15th, 2012, all hotels and inns listed as "public accommodations and commercial facilities" were expected by the U.S. government to conform to the Americans With Disabilities Act 2010 Standards for Accessible Design, ADA.   These ADA expectations extend to large hotel chains and franchises, as well as to smaller inns and Bed and Breakfasts.  There is NO historical property exemption. If the public pays to stay at your Bed and Breakfast, then you must comply.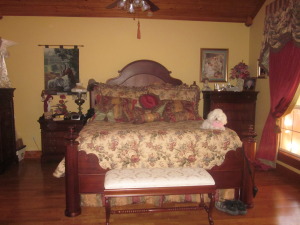 With 80% of tourism dollars spent by age 50+ seniors, an accessible Bed and Breakfast in essential to increase sales, build repeat customers and increase referrals.  No one expects every guest room to be wheelchair accessible, but having one or two accessible rooms will increase your bottom line.  Compliance is often simpler and more cost effective than one might expect.
On-site consultation fees

start at $500.  Please contact us to discuss your situation and concerns. Travel, resources, expert consultants, follow-up and other items might apply.

Please scroll down for a sample project with pricing.
To fully understand  the requirements for your property type, please check out the government's official handbooks at these links.
Bed and Breakfast or Small Inn: Accessibility Audits and Solutions
Accessibility Smart Solutions reviews Bed and Breakfast properties based on this document.  The 2010 ADA Code has over 1000 changes from previous codes.  There is a lot of information to absorb.  Here are some of the requirements for an accessible Bed and Breakfast: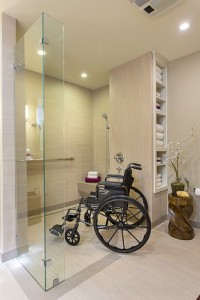 Publicly accessible portions of private dwellings that operate as a Bed and Breakfast must be ADA compliant.
All lobbies, hallways and other large rooms accessible by the public must be ADA compliant.

This might include adding ramps, making door wider and more.

Some guest rooms and their bathrooms must be ADA compliant.
All amenities, including swimming pools,  must be compliant.
Service dogs must be allowed at no additional fee.
The government also requires that innkeepers and hoteliers communicate the steps taken on their marketing materials, including their website, brochures, booking engine and communication.   We see that as smart marketing!
Some of the information you're required to post about your ADA compliance includes:
Any ADA amenities and services you provide
Every accessible room or room type listing, must have detailed information about how it is ADA compliant, including:

The type of room
The size and number of beds
The type of bathroom. Shower or bath, handrails, roll-in shower, etc.
Room communication features (phone, intercom, hands-free devices, etc.)
Sample Fees for an Accessible Bed and Breakfast Property Consultation by Disability Smart Solutions
Disability Smart Solutions starting  fees (2015/2016) for a Bed & Breakfast property accessibility for a Bed and Breakfast with 4 to 11 guest rooms within a 40-mile radius of Downtown Orlando, Florida.
ADA Accessibility Inspection: 

$3,500

Project Consultation: 

Hourly + Expenses

Post-ADA Inspection Compliance Audit:  

$1,750

Additional Services: 

Hourly + Expenses

Note:  All actual projects are priced on an individual basis.

On-site consultation fees

start at $500.  Please contact us to discuss your situation and concerns. Travel, resources, expert consultants, follow-up and other items might apply.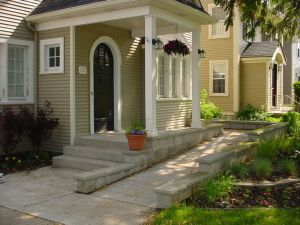 Consultation may include inspecting all public spaces including the parking area, sidewalks, signage, check in area,  pathways, gazebo, swimming pool, public restroom, exercise room,  home theater, game room, recreation room,  dining room, porch, gardens, dock/fishing pier,  all guest rooms and all areas where guests have access.  Outdoor event spaces that are might be tented will be reviewed for access.  Private areas are not part of the survey unless the Client would like those areas reviewed for accessibility.  At the Clients request, additional accessibility solutions and green design solutions may be suggested.
Sample Bed and Breakfast Project Outline
Sample price does not include wedding and event rental space, public event catering kitchen, retail out buildings, garages or stables.
Virtual pre-meeting with the owner, general manager, or team to review concerns and schedule site survey.
Review any existing architectural plans and information about the property prior to the site survey.
Review a land survey of the property along with applicable local building codes for building setbacks and parking.
Site survey visit by an ADA consultant to review all places of public access and guest rooms.
Photograph all areas where ADA compliance is the law, cite the law, provide diagrams and solutions.
Review policies, amenities and marketing techniques for Service Dogs.
Discuss questions and etiquette for serving guests who live with disabilities.
Provide a detailed report with photographs, diagrams, sketches, dimensions, referencing ADA laws per situation, solutions, and resources.
Review property for additional universal design and sensory solutions.
Provide solutions that are architecturally appropriate for the facility.  (Example:  if it is a Victorian style Bed and Breakfast, we recommend Victorian style ADA compliant signage.)
Provide simple cost effective solutions whenever possible.

The ADA Consultant has over 30 years of experience in the residential and resort building design, interior design and construction industries, so she can look at your facility and suggest the most cost-effective solutions.

These are ONLY suggestions.  All structural changes must be reviewed and permitted by a licensed Florida architect or Engineer.
Example: We will provide a sketch of a ramp, suggest the location and provide the code requirements, but we do not provide a detailed construction drawing for permitting.

The report is provided in a digital format for the client to distribute as needed.
Follow-up meeting on site  with the client,  owner, general manager or team to review  the report and walk the property.
Up to 10 E-mails and phone calls coordinating or explaining any possible changes with the client's architect, engineer, handyman or builder.
What is NOT Included
A website review for ADA is not included.

We can provide a suggested description.

Architectural drawings for permit construction are not included.

DSS can recommend a qualified local architect for any required construction documents.
We provide the information required for the architectural drawings.

 We do not provide construction techniques or instruction. We provide diagrams and resources.

Simple modifications are often made by a handyman.

All Structural modifications must be made by the Clients choice of Florida Licensed Building Contract.  (Costs not included.)
All structural changes must be made by a Florida licensed builder.
Additional Services
Billed at the ADA Consultants hourly rate.  4 hour minimum for site visits + any expenses.
Site visits to review compliance construction questions.
Site visits for post compliance audit.
Review architectural plans for compliance.
Review

construction

bids to assure that compliance issues are included in the contract.
Please contact us with information about your property, and we will provide a detailed cost estimate for the services required.  Services are available throughout the South East USA.
Why should your Bed and Breakfast  or Small Inn be accessible?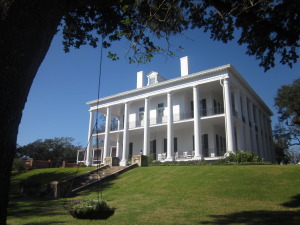 It's the Law.
50+ Seniors spend 80% of all tourism dollars.
People with disabilities are loyal customers with disposable income.
Any person with a disability may sue any business or building owner who has a  facility that fails to meet the 2010 ADA Code.  The business is responsible for ALL legal fees.
Settling an ADA discrimination lawsuit can cost upwards of $25,000, much more than the cost of upgrading a guest room and remodeling a bathroom for a roll-in accessible shower.
Federal disability discrimination fines are as high as $75,000 per incident.
An accessible business that meets or exceeds the 2010 ADA Laws both avoids discrimination lawsuits and increases customer loyalty.
Our team of ADA Consultants has the knowledge, innovation, imagination and collaborative partners to create successful accessible business solutions. Please contact us to review your individual needs.
Historical Property Accessibility Surveys with Recommendations for Seamless ADA Integration
ADA is the law, even for registered historic landmarks.  We provide on-site accessibility surveys with simple ADA solutions for compliance.
All solutions requiring construction documents for permitting must be provided by a state licensed architect.  We provide project coordination.   Please link to our Accessible Historical Properties  page for more information and sample fees with an outline of services.