RESTAURANTS and BARS: Sample Project Fees for an  ADA  Accessibility Survey Inspection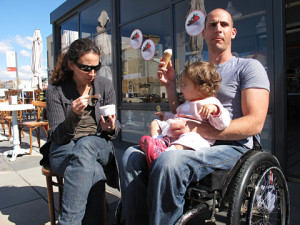 Sample Restaurant ADA Survey project fees are for 2015/2016 within a 40  mile radius of Downtown Orlando, Florida.
Public spaces for the Orlando Restaurant ADA Survey may include:  valet, drop-off, parking lot, sidewalks, outdoor dining, entry, outdoor service area, lobby space, service counters, restrooms, retail, dinning rooms, bar and places for public access.  Service areas may be reviewed by Client request. Universal design suggestions and additional accessible suggestions as requested by Client.  Restaurant ADA Inspections include both the building and the grounds.
Restaurant ADA Accessibility Inspection:  $5,000 base plus $0.50 per square foot under roof.
All projects are priced on an individual basis.
Urgency,  special assessments, and other factors are may affect the overall Restaurant ADA Survey fee.
Discounts might apply to newer Restaurants built to the 2010 ADA Code.

Project Consultation:  Hourly + Expenses
Post ADA Inspection Compliance Audit:   $2,500 plus $0.25 per square foot under roof.
Parking garages are $1,000.00 Base plus $0.15 per square foot.
Additional Services: 

Hourly + Expenses

Alternate package pricing is available for multiple locations.
Note:  All actual projects are priced on an individual basis.
On-site consultation fees start at $500.  Please contact us to discuss your situation and concerns. Travel, resources, expert consultants, follow-up and other items might apply.