Undercover Senior Customer Experience
Do you know that American  50+ seniors and people living with disabilities spend  over  $375 billion dollars each year?
Do you know that 80% of tourism dollars are spent by 50+ Seniors?
Do you know that 50+ Senior ladies enjoy traveling and shopping? 
Disability Smart Solutions offers ADA accessibility and customer service expert Undercover Senior Customer shopping.  This program is similar to our Undercover Disabled Customer program.  Please review that page for a sample project with sample fees.
This trio of retired single ladies dine out several times a week and enjoy  7 to 10-day cruises.
 

Do you want their business?

Single senior ladies have more discretionary income to spend than any other demographic.
They want to enjoy the things they didn't have time for when they were working, raising children and caretaking for their parents and late husbands.
They make educated decisions before spending their money.
They are web savvy.
They have time to research before they shop or travel.
They post good and bad reviews of their experiences on-line!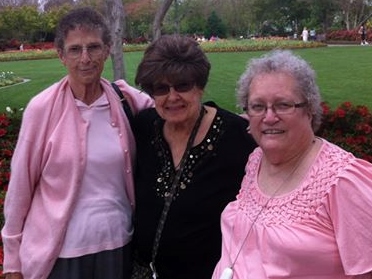 What do you need to know to keep you 50+ Seniors happy customers?
Conduct an Undercover Senior Customer  business review.
Many disabilities are hidden, yet they still impact the way a customer functions in your venue.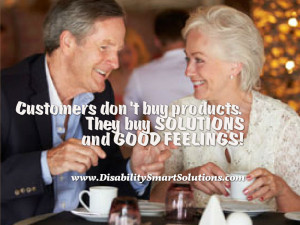 If a senior customer feels welcome, they will stay longer, spend more, become a repeat customer and recommend you to their friends.
If you offend them, they will never be back and they will let all of their friends know.
By 2015, US boomers are forecasted to account for 60 percent of the nation's wealth and 40 percent of spending.  US baby boomers will drive growth in hospitality in the leisure sector. The key to attracting boomers is appealing to their 'forever young' attitude and desire for experiential travel."  Adam Weissenberg, Vice Chairman and Leader of the Tourism, Hospitality and Leisure Sector, Deloitte and Touché LLP
The key to appealing to a "forever young" resort experience is un-noticeable accessibility, universal design, and sensitive customer service. If an aging consumer does not notice any physical obstacles, their perception is "forever young."—–Susan P. Berry, Founder, Disability Smart Solutions
Please call Susan, 407-310-3663 at Disability Smart Solutions to discuss your business and the different Undercover Senior Customer and Undercover Disabled Customer mystery shopping experiences available.   Our services are by trained ADA accessibility and customer service experts. 
Please contact us by e-mail at info@disabilitysmartsolutions.com or use the contact form.