ADA Services for Facilities
Post Compliance Walk-Through Audit 
All-Ability Customer Service Training  
Accessibility Inspection Services
and
ADA and Accessibility Workshops
 are available throughout Florida and the USA. 
Disability Smart Solutions is committed to working with organizations and companies who believe in diversity and social inclusion.  We are an ADA Accessibility consulting company providing resources to businesses that serve the unique needs of both the 50+ aging population and people living with disabilities.
Disability Smart Solutions focuses on architectural barriers and attitude barriers in the Resort, Retail, Lodging, Restaurant, Hospitality, Historical, Commercial Office, City and Community markets.
Our goal is to make every business safer, more user-friendly and 100% ADA compliant.
Please contact us to discuss your project, train your team or speak at your event. [email protected] or call Susan directly at 407-310-3663
Why should you survey your facility for ADA
architectural barriers compliance?
It's the Law!   Save money!   Gain  customers!
It's the Law!
The 2010 ADA Standards for Accessible Design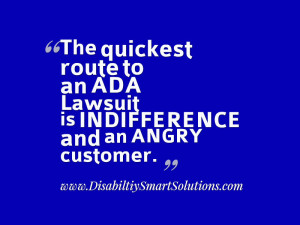 ADA has been LAW for 25 years.  Many business owners assume that their business is accessible or exempt by a "grandfather loophole." They don't know that under the current law, once a lawsuit is filed, there is NO "grace period" to fix accessibility issues.
Disability Smart Solutions, ADA experts survey a facility for compliance with the current 2010 ADA Standards for Accessible Design, the 2012 Florida Accessibility Code for Building Construction, the 1991 ADA Standards for Accessible Design and the Fair Housing Act.
In 2013, the 2010 ADA Code became law in Florida.
Since 2013, 10%+ of all  ADA Discrimination lawsuits since 1993 across all 50 states,  occurred in Florida.
Prior to 2010, many states and cities followed their own version of the ADA Code, resulting in 95% of USA Places of Accommodation being non-compliant.
Our ADA Expert Accessibility Survey shows the business owner all of the architectural barriers in their facility along with solutions.
Business owners, building owners, facility managers, risk managers and property managers trust Disability Smart Solutions to ensure that both their employees and their guests have a safe and accessible experience.
Save Money!  An accessible business that meets or exceeds the 2010 ADA Laws both avoids discrimination lawsuits and increases customer loyalty.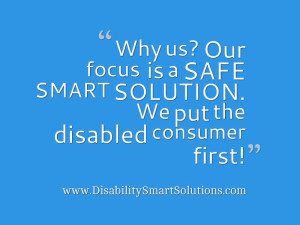 Disability Smart Solutions ADA Survey gives a business owner a detailed "action plan" with photos, field measurements, codes, diagrams and what is needed for compliance.  The document is an organized tool to implement an ADA compliance action plan.
Florida, California and New York are the top states for ADA accessibility lawsuits.  People with disabilities are exercising their civil rights by filing and winning architectural barrier discrimination lawsuits against both businesses and facility owners.
Any person with a disability may sue any business or building owner for an architectural barrier civil rights discrimination.
People with disabilities become frustrated when they can not access a restroom, an employee discriminates, a service dog is denied or they can not access the areas of a business that they paid to use.
ALL legal fees are the responsibility of the business and building owners.
Settlements often cost business owners anywhere from several thousand dollars to hundreds of thousands of dollars in renovations.
A San Diego law firm, which specializes in disability-access issues, said the average settlement for ADA lawsuits is $45,000.
A Noe Valley Merchant's Association reported that the average cost of settling a lawsuit out of court was listed as $24,000.
Federal tax law allows business owners to receive a tax credit for the removal of barriers and for new equipment that helps disabled customers or employees.
Gain Customers!   Capture the Economic Power of the Disabled Consumer and the 50+ Senior Consumer.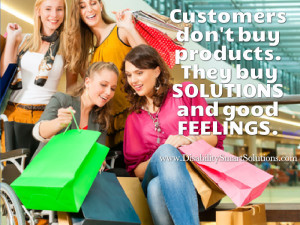 Businesses that want to remain relevant in the ever-changing marketplace, must implement diversity and inclusion strategies throughout their corporate structure.
According to the 2010 US Census Bureau,  1 in 5 people has a disability in the United States.  Those 54 million consumers represent $1 trillion in aggregate income, that translates into more than $220 billion in discretionary spending power! People with disabilities are the largest "ever growing" minority in America.
55+ seniors spend $400 billion more than younger generations each year on consumer goods in restaurant purchases, personal care, entertainment, and gifts.
24.3% or 77+ Million Americans, representing 80% of all tourism dollars spent, are Baby Boomers age 50+.
67% of seniors 65+ and 60% of Americans 50-64 live with a chronic disease.
Baby Boomers on average, visited 220 restaurants last year, the highest of any age bracket.
By 2017, seniors 50+ will control 70% of all disposable cash in the US.
By 2022,  Baby Boomers will have inherited $15+ trillion.
Baby Boomer women spend $20+ billion annually on clothes.
As a whole, women over the age of 50 have a combined net worth of $19 trillion.
Women 50+ spend on average 250% of what the population in general spends in any given year.
Our Products & Services
Post Compliance Walk-Through Audit 
Disabled Consumer Mystery Shopping
All-Ability Customer Service Training  Programs
Workshops and Keynote Speaker Topics