Customer Service for Disabled Consumers, 23 Excellent Tips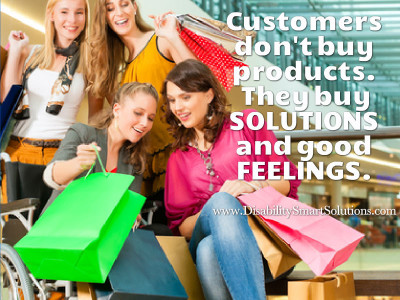 Most business people believe they know the Golden Rules for customer service.  All too often,  employees and business owners are confused in how to provide appropriate customer service for senior and disabled consumers.  Instead of providing good service, they avoid the customer.  Has this ever happened at your business?
Most employers have an employee training program, yet they often forget to train employees specific rules for serving clients with different physical and mental capabilities.   Employees come from different background, cultures and experiences.   Managers can't assume that they know how to properly handle all situations.  This is where ADA discrimination situations occur.
By implementing a Disability Etiquette training program in your business, you will ensure that all customers enjoy their experience and all employees feel confident in all situations.  Remember that customers are not in your business to buy a product. They are there to find a solution and feel good.    A happy customer is a customer for life.
Guess what?  Great customer service is the same for every customer!!!
Know who YOU SERVE.   You serve the customer. You are not the boss.
Make sure that your customer KNOWS YOU.
GREET your customers at the door
KNOW your customers.
Everyone wants to feel important and APPRECIATED.
Treat customers as INDIVIDUALS.
SINCERITY matters.
Do what you say you are going to DO.
Make doing business with you EASY.
If a customer makes a request for something special, do everything you can to say "yes."  Appreciate the power of "YES."
Treat your EMPLOYEES well and they will treat your customers well.
LISTEN to what your customers have to say.  Listen to their words, notice their tone of voice, observe their body language and find out how they FEEL.
Don't Assume.  ASK questions.
TRAIN your employees to properly handle a complaint or irate person.
Give customers the BENEFIT of the doubt.
Know how to APOLOGIZE. The customer may not always be right, but the customer must always WIN.
DEAL with problems immediately and let customers know what you have done.
Make sure that employees know what to do and say to make that customer's experience a POSITIVE, pleasant one.
VALUE Customers COMPLAINTS.
Encourage and  WELCOME  SUGGESTIONS about how you could improve.
 Employees are your INTERNAL CUSTOMERS.   They also need a regular dose of appreciation.
GIVE more than expected.
THANK people even when they don't buy.
By now you have realized that great customer service for disabled consumers is great customer service for everyone!
We are team builders. We make businesses accessible for all.  We provide Disability Etiquette Training for Business.  Disability Smart Solutions has the knowledge, innovation, imagination and collaborative partners to create successful inclusive solutions.  Please contact us to enhance your employee and customer engagement with both the aging and disabled populations.
 407-310-3663