Top 10 ADA Access Violations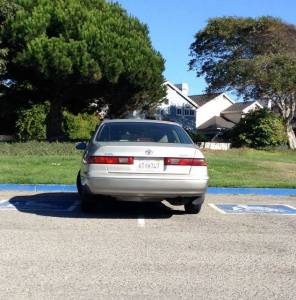 Our expert ADA Accessibility Consultants conduct ADA accessibility facility surveys for  non-compliance with the 2010 ADA Code.
This is the Top 10 List of the most common ADA violations we find.
Even if at first glance they appear simple, depending on the age and size of a property,  ADA accessibility violations can add up from a few dozen  to a few thousand violations.  By documenting all of the access violations, prioritizing which ones to repair first and providing compliance details in one report, Disability Smart Solutions provides an organized  compliance action plan for business and building owners to use to bring their properties into compliance.
Many of these ADA non-compliance items are low-cost changes that can be modified by on-site staff.
The Top 10 ADA Access Violations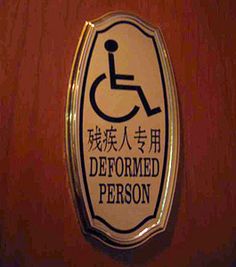 1. Signs: Outdated, missing, incorrect, wrong height, hard to find or mounted wrong
2. Parking: The pavement or ramp slope is too steep or the wrong dimensions.  Parking spaces have no access aisle to get in and out of the car. Parking spaces are the wrong size.
3. Access Routes: Wrong signs, blocked ramps, blocked passageways or uneven surfaces 
4. Curb Ramps: Steep slopes  or other hazards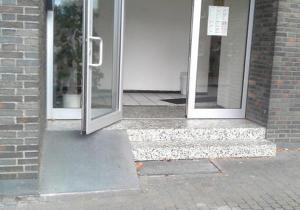 5.Stairs:  hazard striping, uneven steps, lighting, signage, barriers or wrong railings
6. Pedestrian Ramps: No handrails, landings not level or no ramp
7. Restrooms: Too small or fixtures are out of reach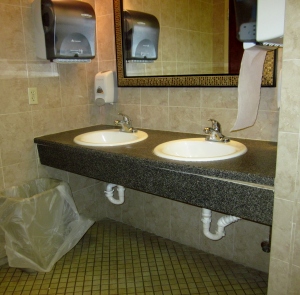 8. Seating: No access for people with disabilities
9. Doorways: Clearance issues, door sizes, weight of door or improper door handles
10. Exits: blocked exits or no signs showing exits
The 2010 ADA Code is complex with over 1000 changes from the previous code.
Many places of accommodation are out of code because property owners assume that they are grandfathered in from an earlier code. The GRANDFATHER CLAUSE is limited.
Statistics show that 95% of US buildings are currently non-compliant.
Each of the examples in this list is an opportunity for ADA discrimination litigation. Each of these areas can be complex in interpreting the ADA Code.
It's always a good idea to consult an independent ADA Accessibility Consultant to review your business for ADA compliance and smart solutions.
Disability Smart Solutions is a full-service ADA Consulting firm offering ADA Compliance Access Surveys, Project Consultation, Post-Compliance Audits, All-Ability Customer Service Training, Undercover Disabled Guest Mystery Shopping, Universal Design Product Review and Keynote Speaking.  Please contact us to review your accessibility needs.