Accessible Restroom Coat Hook: FAIL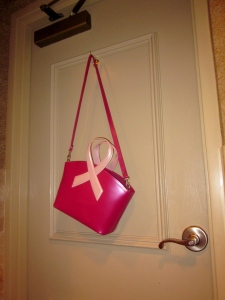 A few days ago I used the accessible restroom at a private club. I was sitting on the potty wondering if a 6′-6″ man had mounted the accessible restroom coat hook.
Had I been a wheelchair user, a person of short stature, a child, or someone with a limited range of motion, my Breast Cancer Month purse would have been on the floor!!
Sometimes business owners forget that accessible stalls are for anyone with any disability! Invisible hidden disabilities like shoulder injuries, elbow injuries, arthritis, MS, tendinitis, gout and nerve damage may limit a person's ability to reach a hook that is mounted out of range.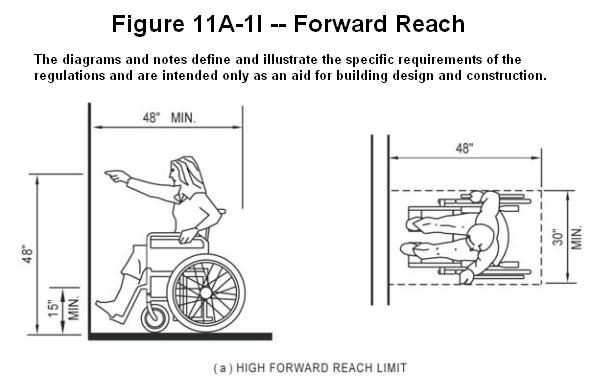 As a designer, I know that coat hook detail dimensions are always part of commercial construction documents.  In the 1980's, I worked as a designer  in the Walt Disney World Architecture and Design Department.  Even before the ADA Code was law, their standard practice was to always mount restroom door coat hooks midway down the toilet stall door, in order to  deter pickpockets from reaching over the door to snatch a purse.
Over the years, I have spent many days on construction sites.  I know  that typically an installer is handed a box of coat hooks and told to mount them.  He rarely takes the time to read the plans.   Armed with a screw gun, he goes toilet stall door to toilet stall door just mounting the hooks at a height that works for him.   During "punch list" time, if the punch-out person isn't familiar with the ADA code, they are just checking off boxes that there is a coat hook!  Even if a business was built to the 2010 ADA (Americans with Disabilities Act) Code, it's still a good idea to double check the details.
Accessible toilet coat hooks mounted too high are the type of little 2010 ADA Code violations that can really frustrate a person with a disability and inspire ADA Code litigation.  It might seem like a tiny detail, but if you are a person living with a disability, who needs to remove clothing or hang items while using the toilet, it becomes a BIG deal!
I know that if  I could not stand up to reach the high non-accessible coat hook, my beautiful Breast Cancer Month purse would be sitting on the germ filled floor.  If I needed to remove my jacket or any other clothing to take care of personal needs, my clean clothes would also be on the floor.  It's often the little things that people who don't live with a disability take for granted that make a HUGE difference in the life of a person living with a disability.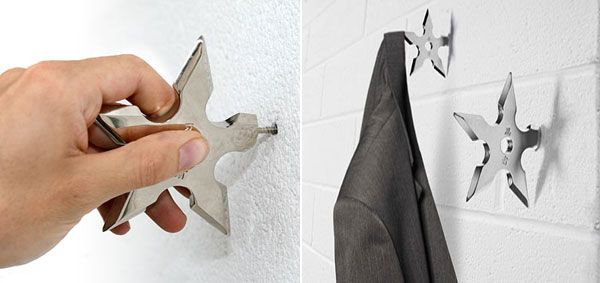 Let's all do our own small part TODAY to make the world a little more accessible.  Grab a screw-driver and  check the coat hooks in your business restrooms.  If they are too high, please move them down.  A maximum  height of  48″ above the floor meets the 2010 ADA Code for accessible restroom coat hooks.   Together we can show consideration to our All-Ability guests and employees.
Do you like my purse?  October is Breast Cancer Awareness month.
Disability Smart Solutions is full-service ADA Consulting firm offering ADA Compliance Access Surveys, Project Consultation, Post-Compliance Audits, All-Ability Customer Service Training, Undercover Disabled Guest Mystery Shopping, Universal Design Product Review and Keynote Speaking.  Please contact us to review your accessibility needs.