Safe Accessible Ramps are a MUST for Disabled Customers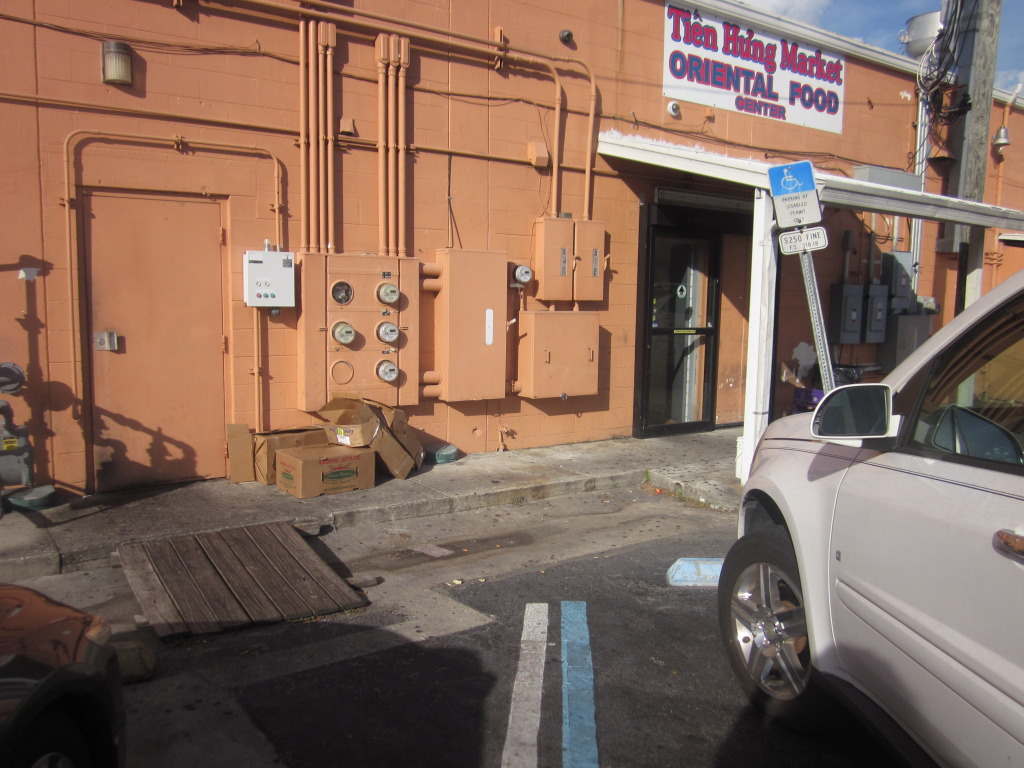 A safely accessible business matters for all customers.
My friend, who has MS, Multiple Sclerosis fell on this rotten "not to code" unsafe ramp by the handicapped parking space of a popular downtown Orlando  Mills-50-Vi Mi District restaurant.  Garbage, empty boxes, rat traps, loose door mats and grease on the sidewalk should have been our first clue to stay in the car.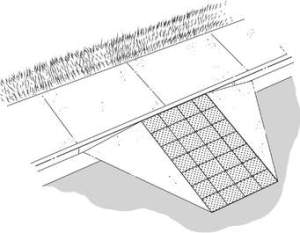 We think that the accessible parking spaces are usually used for their delivery vans and the makeshift rotten wooden ramps are for their delivery carts.  This is not just an assumption.  Employees were unloading produce from their van in the adjacent handicapped parking space.
This is an international business district, but it is not a 3rd world nation without ADA Accessibility codes!  Why does Orlando code enforcement FAIL to enforce ADA accessibility codes at this business?  Why doesn't this restaurant owner care enough to accommodate his customers who live with physical disabilities?
Not only did my friend lose her balance and fall on the wobbly rotten wood plank ramp, but several employees passed her without offering assistance.
Accessible ramps are not just for people who use wheelchairs.  They are also for people with a limited range of motion who have difficulty raising their foot up a short step.
There is an unmarked concrete ramp further down the sidewalk, however, it is blocked with a concrete curb stop and a standard parking space with a parked car.  We could not get past the parked car to access the concrete ramp.  You can see it in the picture.   It was not a usable safe accessible ramp.
The blocked ramp might be their "loophole" from providing safely accessible ramps for their customers.  This is the type of architectural barrier, combined with a negative employee customer service experience, that drives people living with physical disabilities to sue business and building owners to enforce ADA compliance.
Providing safely accessible ramps is not only the law, but it is a gracious expression of respect for other people.
At Disability Smart Solutions, we work with businesses and building owners who want to make sure that their business is ADA compliant and Disabled Consumer Friendly. We do not go out of our way to point out buildings that are non-compliant, however, this situation made my blood BOIL! I wrote this article to demonstrate the REALITY of a non-compliant business and the impact on REAL people who live with a disability.
Please feel free to share.
Disability Smart Solutions is full-service ADA Consulting firm offering ADA Compliance Access Surveys, Post-Compliance Audits, All-Ability Customer Service Training, Undercover Disabled Guest Mystery Shopping, and Keynote Speaking.  Please contact us to review your accessibility needs.